Cologne hostage taker claimed to be ISIS member, threatened to burn woman alive – police
The assailant who took a woman hostage near the Cologne central station claimed to be a member of Islamic State (IS, former ISIS) group, police said, adding that it does not rule out a terrorist motive behind the incident.
The incident unfolded Monday afternoon, when the perpetrator attempted to light up a Molotov cocktail in a neighboring fast-food restaurant. His actions triggered a fire sprinkler system and he fled the scene.
"As he was approaching the pharmacy, he is said to have been shouting … that he belongs to the Daesh terrorist group,"Klaus Rueschenschmidt, head of the Cologne police Special Tasks Directorate, told the German media at a press conference, citing witnesses to the incident and using an Arab acronym for IS.
Police confirmed that they do not rule out that the assailant might have had terrorist motives.
The perpetrator then holed up in a pharmacy behind the station, taking a woman hostage. He repeatedly threatened to burn his hostage alive.
He demanded a free passage as well as a release of a female Tunisian national, German media reported citing police and providing no further details. The suspect was armed with Molotov cocktails and gas cartridges, some of which were tied together with duct tape, Rueschenschmidt said. He also had a gun, but it is not yet clear whether it was a real gun or an airsoft revolver.
Authorities deployed the police special forces, known as SEK, as well as multiple officers and a helicopter. Following an hours-long stand-off, police stormed the pharmacy and freed the hostage, who had received "light" injuries. Police said a 14-year-old girl was injured in the fast-food restaurant earlier.
After storming the pharmacy and apprehending the assailant, police found a passport of a Syrian national at the scene. The document belonged to a 55-year-old man who received a provisional refugee status in Germany back in 2016. He was also previously known to police for various offenses, which include theft, physical assaults and trespassing, as well as drug dealing.
Investigators said the identity of the attacker is still not clear, adding that they cannot confirm if he is indeed the owner of the passport. However, the media reported that there is a "high probability" that the passport owner was indeed behind the incident, citing police.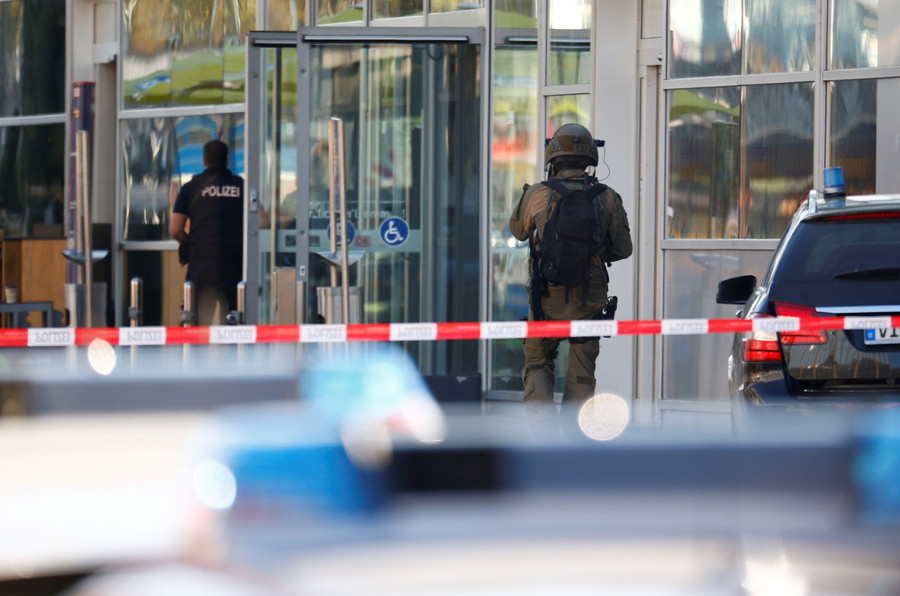 The hostage take-, who was severely injured in the police operation, was taken to an intensive care unit in a local hospital.
The incident prompted Deutsche Bahn, Germany's largest railway company, to partially suspend train service through Cologne. Located near the famous Cologne Cathedral, the central station is one of the most important railway junctions on the river Rhine. Around 1,300 trains pass it every day, carrying up to 280,000 passengers through the station's eleven tracks.